Working to capture aspirations of people who live and work in DeKalb County
Creating a strategic vision for DeKalb County
A cohesive strategic visioning plan that originates with citizen perspectives about what is important to them in the places they live and work, and that can be used to guide decision making well into the future.
The Future of DeKalb County
On April 27-29, 2022 a group of 37 citizens from all over DeKalb County gathered for a workshop and started a discussion on the future of the county. The group included mayors, town managers, county representatives, as well as private and nonprofit leaders. The unprecedented county-wide discussion was a great success. The fact that such a diverse group of leaders from government, business, education, non-profit, and community service organizations set aside 2½ days for this workshop underscores just how important a collaborative vision for the future is to Dekalb County's success.
While the county of DeKalb has been growing at a steady pace and while growth is a good thing, are we utilizing that growth in the best way? Are the cities and towns talking and coordinating with each other? Are we considering how that growth affects all citizens? Do we know what the citizens want to see in the future? The workshop provided a foundation for the county to be able to coordinate an effort to include all necessary components for creating an inclusive vision for the future.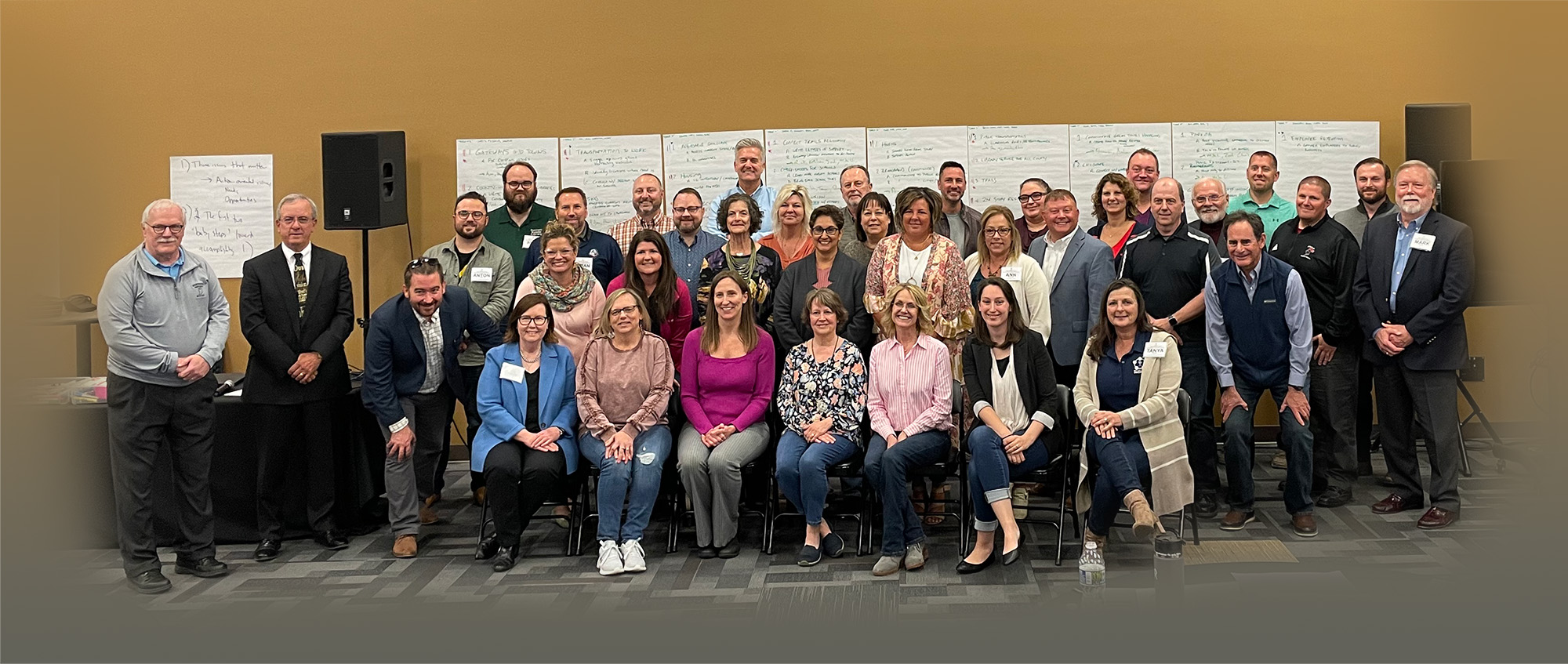 Following the workshop, the county prepared for the second phase of this strategic vision. Listening to the citizens' ideas and concerns about the future of the county.
Five listening sessions were scheduled during the months of June and July across DeKalb County.
Thursday, June 16, 6:00 pm – 8:00 pm, Ashley Fire Department, 101 S Union Avenue
Friday, June 17, 8:00 am – 10:00 am, Butler City Hall, 2nd Floor, 215 S Broadway
Thursday, June 23, 6:00 pm– 8:00 pm, Spencerville Community Center, 5629 Co Rd 68
Thursday, July 14, 6:00 pm – 8:00 pm, GKB High School/Middle School Cafeteria, Door 20
Thursday, July 21, 6:00 pm – 8:00 pm, YMCA of DeKalb County, 533 North Street
Following the listening sessions, the facilitators from Ball State's Indiana Communities Institute and Creative Insights Community Development consultants poured over the data and put together a preliminary report on the strategic vision for DeKalb County. This was presented to the county in a public meeting in December 2022. The attendees provided additional feedback which was added to the report. The final plan with a refined vision statement, key recommendations was presented to the Foundation in late December, 2022.

Objective # 1
Collaborate to build a robust regional mental health delivery system that promotes understanding and acceptance; will be readily accessible; and will support both immediate needs and systemic healing.
Objective # 2
Build a county-wide community where cities and towns, community leaders, organizations, and residents have developed a culture of collaboration and trust.
Objective # 3
Invest in amenity-driven infrastructure improvements (including broadband and trails) that promote connectivity, well-being, economic development, recreation and human interaction.
Objective # 4
Promote the creation and rejuvenation of an abundance of housing options that are diverse in both form and price points, and meet the unique needs of each community.
Objective # 5
Commit to the prioritization of child care as a key to healthy kids and a productive, enabled workforce.
Objective # 6
Reimagine and create our downtowns to be inviting, diverse and vibrant, attracting residents and visitors alike.
Sponsors
This county-wide vision initiative has been made possible by the support of the Town of Waterloo, the Town of Hamilton, the City of Butler, the City of Auburn, the City of Garrett, The James Foundation, United Way of DeKalb County, DeKalb County Visitors Bureau, DeKalb Central Schools, and the Community Foundation DeKalb County.